Introduction to Sambhota to Unicode Converter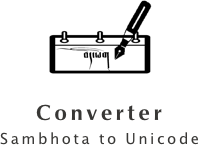 Introduction to Sambhota to Unicode Converter
Sambhota is a Tibetan font style that was developed by the American Nitartha company in 1999. Due to the aesthetic appeal of the font style, the font has been widely used by academia and printing houses. The font style can only be used by Microsoft Office. For the ease of use by people who previously used the Sambhota font in creating documents, we have created a function to switch between Sambhota and the more common unicode font style.
Version 0.0.1
Providing online conversion between Tibetan Unicode and Sambhota.
Copyright
Copyright (C) 2017 Dharama Treasure
Permission is hereby granted, free of charge, to any person obtaining a copy of this software and associated documentation files (the "Software"), to deal in the Software without restriction, including without limitation the rights to use, copy, modify, merge, publish, distribute, sublicense, and/or sell copies of the Software, and to permit persons to whom the Software is furnished to do so, subject to the following conditions:
The above copyright notice and this permission notice shall be included in all copies or substantial portions of the Software.
THE SOFTWARE IS PROVIDED "AS IS", WITHOUT WARRANTY OF ANY KIND, EXPRESS OR IMPLIED, INCLUDING BUT NOT LIMITED TO THE WARRANTIES OF MERCHANTABILITY, FITNESS FOR A PARTICULAR PURPOSE AND NONINFRINGEMENT. IN NO EVENT SHALL THE AUTHORS OR COPYRIGHT HOLDERS BE LIABLE FOR ANY CLAIM, DAMAGES OR OTHER LIABILITY, WHETHER IN AN ACTION OF CONTRACT, TORT OR OTHERWISE, ARISING FROM, OUT OF OR IN CONNECTION WITH THE SOFTWARE OR THE USE OR OTHER DEALINGS IN THE SOFTWARE.
User Feedback
Please fill in the feedback form if you have any questions or feedback to help us improve this product.